Tween girls can be a lot of fun to shop for! There are so many pretty and fun things that capture their interest. At this age, they also love to buy gifts for their friends. I've included a bunch of ideas that are inexpensive and she can give as gifts, too! I've also included some bigger ticket items that your tween girl will covet and could be her "big gift" this year. Read on for some fantastic gift ideas for tween girls!
Nourishing Tweens is a participant in several affiliate programs, advertising programs that provides a means for sites to earn advertising fees by advertising and linking to amazon.com and other websites. I only recommend things that I truly like and would use myself. If you click through my links and make a purchase, there is no additional charge to you.
Tween Girl Fashion
Accessories
I'm going to start with accessories since they are like the icing on the cake! They aren't (usually) too expensive and also make great stocking stuffers or gifts for her friends.
Chokers are really popular with tween girls and come in several different styles.
Hair ties and bracelets overlap with the current generation of tween girls. These coils can be used for hair ties or bracelets and would make great stocking stuffers, or gifts for her to give to her friends:
Scrunchies are back! When I was a tween we used them to hold our ponytails. Girls nowadays like to wear them on their wrists or use them in their hair to make a messy bun.
Mini barrettes are also really popular with tween girls right now. They would also be a great choice for stocking stuffers!
If you want a super easy solution gift-giving solution, get your daughter a mystery pack! Mystery packs are all the rage with tweens and teens right now. My daughter sells them in her Caligurlvibes shop on Etsy. She handmakes stickers to put in the packs and then selects a variety of little gifts to include with them. They come in three different sizes in her Etsy shop.
If you are looking for a Christmas gift for your tween or teen, Caligurlvibes has a special Christmas mystery box!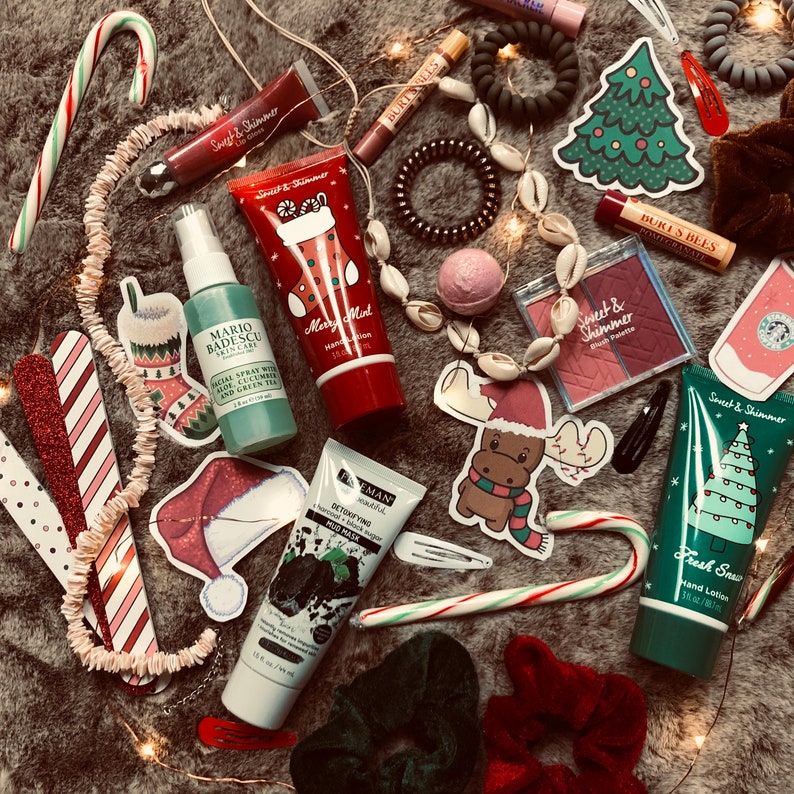 Clothing
So many of the on-trend fashion items that tween girls crave are rather expensive! If you are a parent to a tween girl and want to get her something special, here are some of the higher-end items she wants:
If your daughter is in the 9-11 age range, Justice is the place to shop! When my daughter was that age she adored their styles.
For the 12-18 crowd, Brandy Melville is the place to shop. A warning though: Brandy Melville clothes are all one-size-fits-all. Which means most of their items are a size small. So if your tween is tiny, that's fine. But if not, it may be a challenge to find what fits. AND they have a restrictive return policy. So if you have a Brandy Melville store in your area (click this link to check), get your tween a gift card for Christmas so she can shop there in person and try things on.
If you want to get her some similar styles that aren't one size fits all, here are some more ideas with the same California vibe:
Another great online shop for teens and tweens is Shein. Visit them at us.SHEIN.com for very low-priced on-trend fashion. They offer free returns and make it so easy! Do check their sizing though as you order – their clothes run smaller than most US sizes.
Here are a few examples of what is available at us.SHEIN.com :
Sherpa jackets are also a common wish for tween girls this year. This one is pretty cute and will make her look like a teddy bear:
Lots of tween girls have discovered the fun of watching the TV show Friends. If your girl is one of them, she might like this sweatshirt:
A popular figure for tween girls is the YouTube star James Charles. If your tween is into James Charles, I'm sure she would love something from his Sisters Apparel line. They have sweatshirts, jewelry, slippers, and more! Click here to visit his shop.
James Charles also has a make-up line. It is through Morphe and available at Ulta. Click here to take a look. He's known for his make-up application videos and many tween girls want this item very much! And no, you don't have to let her wear this to school. It can just be for fun at home.
More Tween Girl Style Necessities
Every tween girl thinks she needs a Hydroflask. We got one for our daughter for Christmas last year.
She also needs stickers to put on it! My daughter sells stickers on Etsy under the name Caligurlvibes – please check out her shop!
Another super popular craving of tween girls is the Kanken mini-backpack:
Tween Girl Room Decor
Help her make her bed into a cozy nest with fuzzy blankets and comfy pillows!
Tween girls love cute stuff hanging on their walls!
Fairy lights are a huge trend with tween girls! This set of fairy lights is battery operated so can be put anywhere in her room. My daughter has hers up along the crown molding and it looks beautiful! They also come with a remote, and have a timer setting so she can set them to come on in the evening and automatically switch off during the night.
How about something that would look good on her desk or a shelf?
Light boxes are all the rage with tween girls. If yours doesn't have one yet, a light box would make a great gift!
Another similar choice is to get a message board like this one:
Tech Gifts for Tween Girls
Gadgets are on everyone's list nowadays, and tween girls have tech gadgets they want, too!
An iPad is on my daughter's list – she wants one like this (this image is a mini, which is probably the right choice for most tweens)
and then she wants an Apple pencil to go with it, so she can use it for drawing. If your tween is artistic, it would make a great gift:
Air pods are also highly desired by most tween girls:
Another great gift for tween girls is a bluetooth speaker that she can connect to her phone:
Activity and Craft Sets
If your daughter would be interested in journals, craft sets, and other such activities, I have a comprehensive list of ideas in my article Calming Activities for Tweens and Teens. Check it out for lots of ideas!
And for more about tween trends, read VSCO girl tween fashion or Current trends for tweens.
I hope you've loved my gift suggestions! Please pin and share! If you have more ideas for me, let me know in the comments below.
Have a teen or tween in your life that loves Harry Potter? Check out my article with more than 70 Gifts for Harry Potter Fans!