7 Simple Changes to Reduce the Toxins in Your Home
Do you want to reduce the toxins in your home? Do you feel overwhelmed and wonder where to start? I can help you make seven simple changes to reduce toxins and create a healthier home for your family!
As a mom to tweens and teens, I have been working for years to optimize the health of my family. I've done my best to keep informed of the latest news in nutrition and health. Recently, I've come to understand that what we eat isn't the only issue when it comes to our health. We also need to look at what is in our home: what we put on our skin, breathe in the air, and which items our foods touch, too.
If you want to learn more about why it's important for your family's health to reduce the toxins in your home, read this article. If you already understand why it's important but you need help doing so, then you are in the right place! Read on!
Nourishing Tweens is a participant in several affiliate programs, advertising programs that provides a means for sites to earn advertising fees by advertising and linking to amazon.com and other websites. I only recommend things that I truly like and would use myself. If you click through my links and make a purchase, there is no additional charge to you
Simple Changes You Can Make Now
1. Get rid of your dryer sheets
The perfect place to start reducing toxins in your home is the laundry room. If you wash your clothes in such a way that they absorb toxins into the fabric, then that fabric touches your skin and the skin of your children ALL DAY. And if they sleep in pajamas that have toxic chemicals in them under sheets that have toxic chemicals, and dry themselves off with towels that have been exposed to toxic chemicals…YIKES!
Luckily, this is a really simple problem to solve. One of the most toxic items in your home is dryer sheets. If you look on the EWG (Environmental Working Group) website and read the results for dryer sheets, you'll be pretty horrified. EWG rates products from A to F, with A being best and F being worst. Bounce and Downy rate a "D," Target and Walmart's house brands rate "F." Even Whole Foods 365 Brand and Mrs. Meyer's rate a "C." If you click on them and read further, you'll see that ingredients in these products are likely to cause asthma and respiratory illnesses. Some are also flagged for allergy and skin irritations, and some are even flagged for developmental and reproductive toxicity.
The best solution is wool dryer balls! Wool dryer balls are a one-time purchase that eliminates the need for dryer sheets. They are a budget-friendly and health-friendly choice. It's an incredibly simple change to make! I bought mine at Trader Joe's and I've been very happy with them. Not only do wool dryer balls eliminate your need for chemicals in your dryer, but they also fluff your clothes and circulate the laundry with the air more effectively, which ends up making your load dry faster – thus saving on energy bills.
If you miss the scent that dryer sheets give your laundry, that's an easy problem to solve! Simply add a few drops of essential oils to your dryer balls. You only need to add the oil occasionally. I like to add a few drops of lavender as well as Young Living's Purification essential oil blend. If you'd like to learn more about the best essential oils and how to get them at wholesale prices, read my article about essential oils. It's best to add the drops of essential oils to the wool balls an hour or more before you need them so they have a chance to soak in (but right before does work – I have to admit that's what I've done a few times).
One thing to keep in mind with wool balls is that your dryer will need less time to get the clothes dry. Because of that, you might accidentally over-dry your load the first few times you use them. If you over-dry the clothes they can have too much static, so notice how long it's taking and be careful. It's definitely worth it to make the change!
2. Switch out your laundry detergent
Changing your laundry detergent is another really simple change you can make to reduce the toxins in your home. I've already explained why the laundry room is the best place to start, so while we are there, let's make our second change!
Everspring is Target's new less toxic store brand. With this brand, Target is striving to be environmentally friendly and open about their ingredients so consumers can make wise choices for their families. The Everspring laundry detergent rates an "A" on EWG's website. I've been using it in my home for about a month and I think it works well.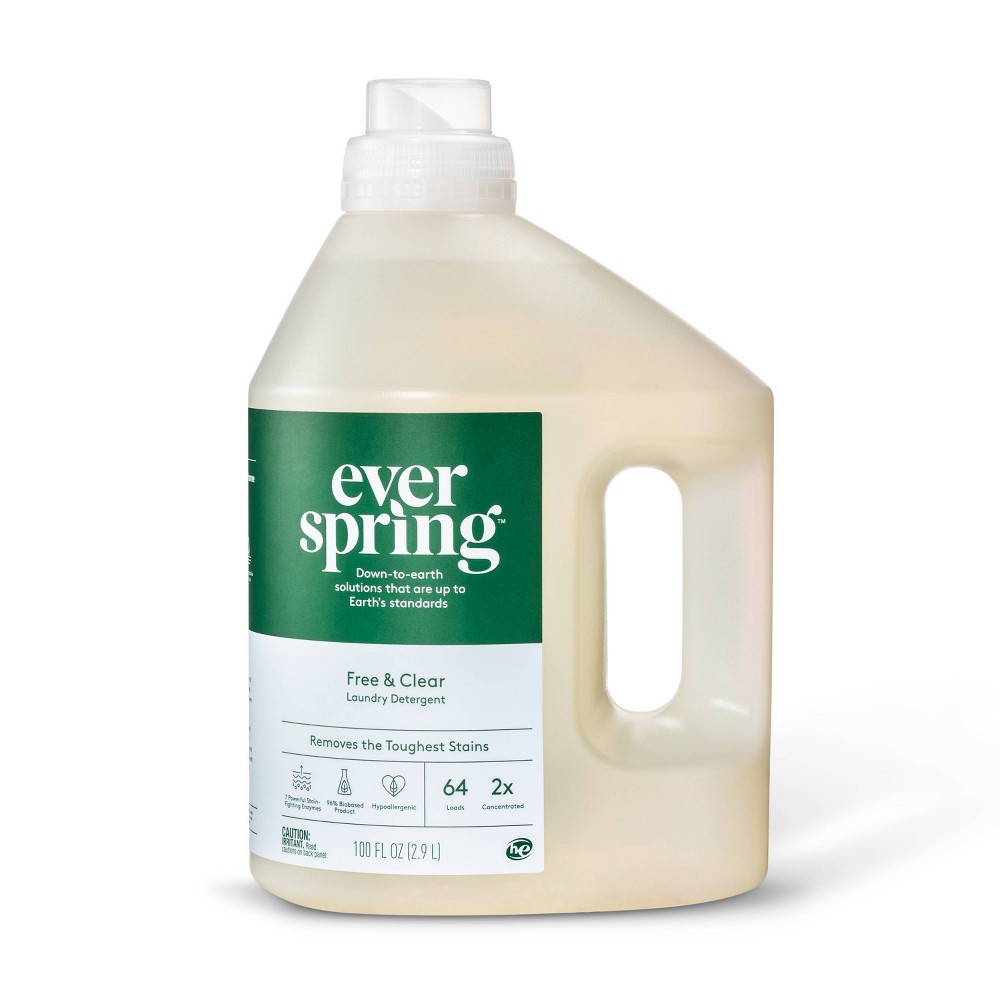 If you want to read more detail about the detergent choices out there, please read my article about why you need a non-toxic home. In it, I have a longer list of recommended brands from my research on EWG.
3. Get rid of toxic lotions and moisturizers
Whatever you rub onto your skin is absorbed through the skin's layers and into your bloodstream. This means that all the ingredients in your lotions are being spread throughout your body. Any chemicals in there can affect your body's systems. Some of the ingredients in popular lotions can disrupt the endocrine system or the reproductive system, as well as create issues with allergies and immunotoxicity.
The EWG Skin Deep website is a good resource for finding safe products. There is a brand called Everyone that received the top rating on Skin Deep. I have tried several "clean" lotions and this is my favorite so far. It absorbs well into the skin (some of the others I tried do not) and since it comes in an unscented variety, it is a good choice for the whole family. Since it is unscented, you can choose your own scent by adding essential oils to it.
It also does come in several scents for you to choose from if you have a favorite. Or if you want to do your own research you can go directly to the Skin Deep website and choose from the other lotions that rated well.
Another fantastic option is to do DIY products. It is super budget-friendly to DIY your self-care products! A lot of less toxic products are more expensive than the cheap, nasty products. I have just started learning how to make my own and I plan to write some articles about that in the future once I'm ready to teach you all about it. If this interests you, please sign up for my newsletter so you will receive updates when I add new articles.
In the meantime, there is an excellent source of information on this available. The Ultimate Bundles Essential Oils and Herbs bundle is full of resources for how to make your own self-care and cleaning products. It has tips for keeping your family healthy naturally and explains all about how to use essential oils and herbs safely.
4. In your kitchen, switch out the plastic items and replace with metal, glass, or silicone
Plastic is filled with all sorts of chemicals that can hurt your body and expose your family to toxins. Look around your kitchen and think about what you have. Find the plastic items and ask yourself, does this touch my family's lips? Does this touch my family's food? Is this item exposed to heat (which can encourage it to release those chemicals)?
Here are the most important things to get rid of:
Plastic that you keep your food in for prolonged periods, such as Tupperware and other storage items.
Items that touch your mouth, such as drinking glasses and straws.
I have some of each of these brands at home and I'm happy with them both:
Glass is much safer for reheating your food, so it is really handy to have your leftovers in a container that can go straight from the fridge to the microwave.
Here are some good choices for drinking. When choosing glasses for a family with kids, I'd recommend ones that are nice and heavy so they won't break easily. Also, don't forget to check that they are dishwasher safe!
Thermos is an excellent brand for drinking on-the-go. Their containers are metal. They can keep your water cold for many hours, even in a hot car! They do have plastic lids. Thermoses do need to be hand-washed. If you have found any on-the-go drinking containers you like that have no plastic, please let me know in the comments! My son has had one just like this for years:
And of course, as a mom of tween girl, I have to mention Hydroflask. Hydroflask is the brand if you are a trendy tween or teen. They are very well made and do last a long time and keep your water cold for a long time.
Reusable drinking straws are a necessity if your family uses straws a lot. I have a whole article in which I reviewed different brands. Click here to read my article about straws. These are my favorites, I use them every day:
5. Replace your hand soap
Another item in your home that touches your family's skin repeatedly throughout the day is hand soap. I used to LOVE buying all the pretty scented soaps out there – until I realized that fragrances are toxic.
I have been making my own foaming hand soap and I love it! I can make it whichever scent I like by adding essential oils. Click here to read my favorite DIY soap recipe!
The Ultimate Bundles Herbs and Essential Oils Bundle has a bunch of great recipes included in it for DIY'ing things like soap.
But of course, you can keep it really simple and just buy some! I researched which ones are actually safe- many of the supposedly "green" brands contain synthetic chemicals and fragrances- and here is my favorite brand:
If you want more suggestions, see my recommendations in Why you need a non-toxic home.
6. Ditch your scented candles
I know, I know, this one hurts. I loooooooove scented candles. But the fumes are terrible for you. Most candles are made from paraffin wax which is a petroleum product. Candles are especially bad for families that have members who suffer from allergies or asthma.
But you can still have a scented home! Get a diffuser and some essential oils and you can make your own custom scents that add to your family's health. Click here to read my article about essential oils. It explains all about where to start. Young Living has an awesome starter set that gets you your diffuser and a wide variety of pure oils to put in it. Simple!
Here's a video about how I used my diffuser:
7. Get some new household cleaning products
And the last simple change I suggest you make to get the toxins out of your home is to ditch your household cleaners and replace them with plant-based toxin-free ones. The fumes from traditional cleaners are dangerous. You breathe them in while you clean which can hurt your lungs and respiratory system. Not only that, but any molecules that you breathe in are potentially entering your bloodstream, which can damage all your systems. And the residue from the cleaners is touching your family's skin, again, potentially being absorbed and entering the bloodstream.
I have been using Thieves household cleaner. It comes highly concentrated, so you just need to dilute it with water. I bought a set of empty bottles that I use for that. Thieves is available from Young Living. To learn more about Young Living, please read my article about essential oils. Thieves has a wonderful cinnamony scent – I really like how it makes my home smell. And it's super simple: it is one product that can clean every room in your house. You don't need tons of different bottles cluttering up your space.
If you're in a hurry and want to keep it really simple, just order this:
Alright! I hope you enjoyed my suggestions for simple changes you can make to reduce the toxins in your home! Good luck! Please pin and share!