Welcome to the 5-Week Healthy Family Challenge! I'm so glad you're here. Click the button to get the free printable:
We are going to make some simple changes that will have a positive impact on your family's health!  I promise it will be easy and doable- and FREE. I was inspired to do this challenge as a response to the traditional New Year's Resolutions. I originally chose January 6th as a start date because this is NOT a crazy unachievable New Year's resolution!  I wanted you to have a few days at the beginning of 2020 to think about what your goals might be. So many people overdo it with their healthy resolutions – working out every day until they're exhausted, starving themselves, etc.  
So whatever day it is today…today is a good day to make some positive changes!
I want something better for your family. I want to help you make real, sustainable improvements in a few key areas. I am hoping that you've calmed down on the crazy goals and are ready to make some mindful changes.
When you are done with week 1, you can use these links to check out the other weeks:
READY?!?
Here's the video from Day 1. It explains all about the challenge and how to use the printable. I will link the videos from the other days at the bottom of this post.
Week 1
Focus: Healthy Fats
For many decades now, Americans have been taught to be afraid of fat in our diets. We've been told not to eat very much fat in general, and that the fat we should eat is vegetable fats. But more recent nutritional research has taught us that much of what we've been taught is not only false, but making us sick!
Please click here to read my article: Which healthy fats should you feed to your family?
For the first week's giveaway, I partnered with Perfect Supplements! The winner received a bottle of their Perfect MCT Oil. It's a super healthy choice for adding healthy fat to smoothies for you and your kids. It also can be added to salad dressings or beverages such as bulletproof coffee.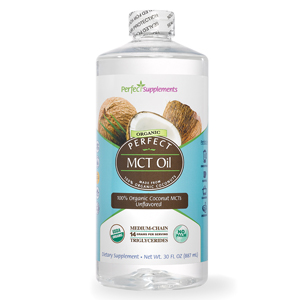 MCT oil is made from coconut. Click here to read all about MCT oil and it's health benefits. MCT oil makes it easy to get healthy fats into your kids – it's tasteless and clear, so it works great in smoothies. If you missed the giveaway, I'm happy to tell you that you can still get a deal on yours! Order some now at perfectsupplements.com, and while you're there, check out all their other health supplements! Use the code TWEENS10 to get 10% off your order! If you order three items, you get 25% off!
So tell me what to do to participate in the challenge!
Yes, I'm on it! It's easy! I just want you to try something new!
Click here to grab your printable if you don't have it yet!
Each day (or every other day – it's okay, I know you are busy) take a small step toward including more healthy fats in your family's diet. Here are some ideas to get you started, and you can also get more ideas by watching the videos linked in this article:
Look through the oils and spreads you have in your house. Get rid of canola oil, corn oil, cottonseed oil, soybean oil, hydrogenated or partially hydrogenated oil
Check the labels on the processed foods in your house – things like crackers, chips, and cookies, Cool whip, Crisco. Look for the aforementioned ingredients and get rid of them. Even breads are made with soybean oil -yuck! Get rid of it.
Choose a new oil or two to try that you don't already have in the house. Avocado oil, extra virgin olive oil, unrefined coconut oil, MCT oil, organic butter, etc. Read my article about how to know which ones are the best choices before you shop: Which healthy fats should you feed to your family
Try a new recipe that incorporates these fats! I've linked to all of my recipes in the healthy fat article. I'll be teaching more about this in my Facebook lives.
Buy some organic grass-fed beef and enjoy it! The fat in meat isn't the demon that you've been taught that it is. Shocking, right? The same goes for pork and lamb. Or maybe your family already enjoys these…if so, challenge yourself to try a new grass-fed meat this week, such as bison.
Buy some organic chicken thighs and enjoy them! Stop eating only chicken breast because you've been told it's healthier. Chicken breast is NOT healthier, and it IS more expensive! My whole family thinks that chicken thighs are much tastier than breasts…it's the fat!
Buy some pasture-raised eggs and enjoy them! Pasture-raised eggs contain DHA, a VERY healthy fat for your brain and your kids' growing brains! If you've been worrying about cholesterol – get over it!
Make homemade salad dressing using extra-virgin olive oil, MCT oil, or avocado oil!
Make a delicious high-fat snack for your kiddos! Celery with cream cheese, apples with nut butter, veggies with real hummus (made with plenty of olive oil, not canola oil), veggies with ranch (Sir Kensington's makes a great avocado oil-based ranch)
I know many of these changes are expensive. I KNOW – our family struggles with our budget, too. But it's SO important that you eat well. Food is fuel, food is medicine, and you are what you eat. And your kids…their bodies are being built by what they eat. Don't let them eat garbage. Vegetable oils like canola are the WRONG building blocks for your child's (and your) brain, and they can lead to hardened arteries and other health issues.
If you are trying to stay in your budget, start slow. Please DO throw out the really bad stuff like Crisco and Coolwhip. But if you need to, finish what you have purchased already and slowly replace them with healthier options as you can afford it.
Also, consider looking at where else in your budget your money is going. Your family's health is more important than anything.
Get Set, Go!
Alright everyone! Have fun trying these new ideas, and please participate and post about it on Facebook and Instagram so I can see what you're doing!!! Please use the hashtags #5weekhealthyfamilychallenge and #nourishingtweens and tag me!!
Have more ideas for how to add healthy fats to your family's diet? Comment below! And please invite your friends! Scroll down to see the other videos.

When you've completed your week, onto week 2!