It's time for Week 5 of the 5-Week Healthy Family Challenge! Are you ready to finish strong?!? I hope you have been learning and making some changes to help your family live a healthier life!
If you're new here, welcome! You don't need to have completed the first four weeks to join in for week 5! Everyone who wants to improve the life of their family is welcome. And, you can enter this week's giveaway!
Speaking of giveaways…how about we go out with a bang and do TWO giveaways this week!?! Keep reading…details below…
Nourishing Tweens is a participant in several affiliate programs, advertising programs that provides a means for sites to earn advertising fees by advertising and linking to amazon.com and other websites. I only recommend things that I truly like and would use myself. If you click through my links and make a purchase, there is no additional charge to you.
Week 5
Focus: Eat your veggies!
Alright, there is no accident in my choice of topics this week! I know many of you have joined this challenge as a way to start off the new year on the right foot.
It's a well-known fact that many people make strict and challenging new year's resolutions and don't manage to keep them. And more often than not, those goals include eating right. So I figured, there is a good chance that some of you started out a month ago planning to eat right…and have fallen off the wagon. That said, I am here to inspire you! Time to eat your veggies!!!
Seems to me, a month into the new year is the PERFECT time to think about what you and your family are eating! We all know that vegetables are important for your health. In fact, it's probably the only thing that all the various diet gurus agree upon! So I won't go into why it's important in this article…but stay tuned!
Week 5's Giveaway
I am happy to announce that for Week 5, we again have a generous gift supplied by one of my favorite companies, Perfect Supplements! Perfect Supplements will be sending my winner (chosen on Sunday, Feb. 9) a bottle of their Perfect Matchinga – a $39.95 value!
Matchinga is an amazing choice to add to your smoothies, and can also be used to make a yummy Matcha tea! It's a blend of Matcha and Moringa.
Matcha is filled with antioxidants, amino acids, and vitamins. Moringa is one of the most nutrient-dense foods there is. It's very high in iron, vitamin C, vitamin A, calcium, potassium, and amino acids.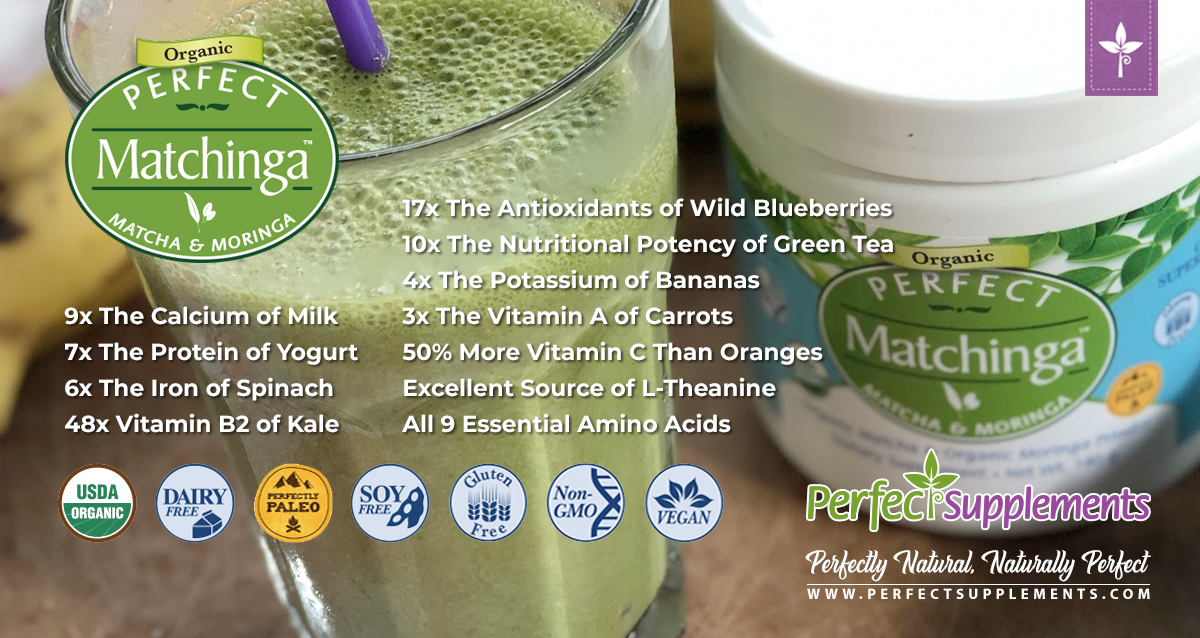 Also, Perfect Supplements is continuing to offer a discount to my readers! Use the code TWEENS10 to get 10% off your order! Or if you choose 3 items you get 25% off! As you are working to get more veggies into your family, there are some supplements that can help! One great choice is Perfect Aquatic Greens .
And drumroll please…I will be choosing another prize winner this week! While my first winner will be chosen as I have done each week (explained below in case you are new here), my second winner will be more of contest winner.
WHAT?!?!
What I mean is, I have been asking you guys to participate in my challenge for more than four weeks now, and you guys have been great! I've had lots of interaction with readers on Facebook and a bit on Instagram, too. I would love even more! Let me know you're out there, and better yet…tag some friends so I can touch more lives!
So for my GRAND FINALE giveaway, I will be rewarding my most enthusiastic participant. I've been keeping detailed notes on who has been participating so that I could choose each week's winner. At the end of this week, I'll tally them all up and send my winner a variety pack of healthy prizes!
What will the prize be? Well…I'm going to be adding to it all week. The more participation I get out of you guys, the more I'll add! Everything included has something to do with our 5 focuses of the 5-Week Healthy Family Challenge.
For starters, I have another book from the awesome Kobe Nhin – the teenaged author who writes books to teach other kids about resilience! I will be giving away a copy of his book, How to Win Wimbledon in Your Pajamas.
Also included is a box of one of my favorite teas, Calming tea from the Yogi tea company.
I'll also send the winner a mini roll-on of my favorite Young Living essential oil blend for relaxing: Peace and Calming.
How to Participate in the Challenge
Let's do it!
Click here to enter and get your free printable if you haven't already!
Each day, take a small step to increase the veggies in your family's diet. I will continue doing Facebook lives to give you inspiration, so please make sure you are following me on Facebook! Here are some ideas to get you started:
If you are a California resident and would like to try Farm Fresh to You, please use my code KARE2218 to get $15 off your first box!
I look forward to seeing your posts on Facebook and Instagram this week sharing your participation in the challenge! If you try a new recipe, post a pic and tag me! Don't forget – the more you participate, the more entries you get in the giveaway! And invite your friends! In case you need a reminder, here is how to enter the giveaways:
Start by clicking here to sign up for the challenge. When you sign up, a free printable will be sent to you to help you keep track of your progress. This will add you to my email list (if you're not already on it). Don't worry, I won't spam you. I normally send a newsletter out once every week or two. During this last week of the challenge, I admit I'm feeling excited and there will be a few extra emails! Forgive a girl for her enthusiasm – it will be back to one per week the second week of February.
Following me on Facebook will add another entry! Click here to follow me!
Liking my Facebook posts about the challenge will earn you another entry (and yes, I mean for every post I do about the challenge, you can like it and will earn another entry for each post)
Comment on my Facebook posts about the challenge and earn another entry!
Comment on my Facebook lives during the challenge…earn another entry!
Share my posts or videos on Facebook and earn THREE ENTRIES!
Follow me on Instagram to earn another entry! Click here to follow me on Instagram.
Each time you like or comment on my Instagram posts about the challenge, earn another entry!
Tag a friend on my Instagram posts about the challenge and earn an entry for each friend you tag
Participate by posting on Instagram about your participation and progress on the challenge – tag it #5weekhealthyfamilychallenge and #nourishingtweens to earn TWO ENTRIES! And yes, I mean two entries each time!
Leave a helpful or positive comment on this post or any of my recipes to earn an entry!
If you're new here and you want to learn more about the earlier weeks of the challenge, please do!
Week 1 we talked about healthy fats and why and how to get them into your family's diet.
Week 2 we talked about stress and how to lower the stress levels in your family.
Week 3 we talked about sleep: why it's important, how much teens and tweens need, and how to work on getting more sleep for your family.
Week 4 we talked about how to decrease the toxins in your family's home.
All of the weekly blog posts have videos attached so you can watch and learn if that makes you happy!
Have fun and good luck!!!! Please pin and share!