Monday Morning Green Smoothie
This recipe is for you, mom! I have other smoothie recipes for your kids, but this one is for you! This anti-inflammatory green smoothie is what you need to feel your best and improve your health. I call it my "Monday morning green smoothie" because it can help your body be calm after a weekend of possibly poor food choices.
Nourishing Tweens is a participant in several affiliate programs, advertising programs that provides a means for sites to earn advertising fees by advertising and linking to amazon.com and other websites. I only recommend things that I truly like and would use myself. If you click through my links and make a purchase, there is no additional charge to you.
My Monday morning green smoothie contains anti-inflammatory ingredients that support your body's systems. It reduces inflammation and can help you lose weight. Its ingredients are inspired by combining what I learned in the books Body Love by Kelly Leveque and in The Plan by Lyn-Genet Recitas.
Kelly Leveque, nutritionist to the stars, teaches about maintaining blood sugar levels and satiety (feeling full and satisfied) by eating the right combination of nutrients at each meal which she has dubbed the "fab four" – fat, protein, fiber, and greens.
Lyn-Genet Recitas teaches about how to eat to reduce inflammation, which leads to less disease, a healthy weight, and better overall health.
So my Monday morning smoothie combines their well-tested healthy ideas into a nutrient dense breakfast that helps you look and feel your best.
What's in the Monday Morning Green Smoothie?
Coconut milk or nut milk
First, you start with unsweetened coconut milk – the kind that comes in a box or carton, not the thicker kind that comes in a can. Unsweetened almond milk or other nut milks can also be used. I like to use coconut milk because of the benefits coconut can have for brain health.
I use a lot of the coconut milk just as Kelly Leveque suggests. Her reason is that one of the hormones that controls when we feel hungry or full, ghrelin, is released when the stomach is empty and stops when the stomach is stretched. Therefore, in order to feel satisfied you need to eat a large enough quantity of food.
MCT oil, fractionated coconut oil, or coconut butter
MCT (medium chain triglyceride) oil is made from coconuts. I try to include as much coconut oil in my diet as I can to support brain health.
The best MCT oil on the market comes from Perfect Supplements.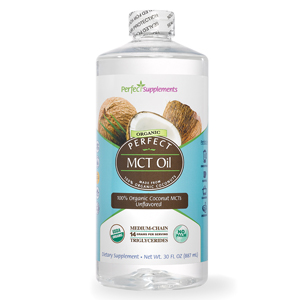 You can also get coconut butter if you like the coconut flavor since MCT oil is flavorless.
Chia Seeds
Chia seeds are the "fiber" in this version of Kelly's Fab Four. They are also an important ingredient in Lyn-Genet Recitas' Plan smoothie. Chia seeds are not only high in fiber, but they are also a very good source of minerals such as calcium, magnesium, and manganese as well as healthy fats and antioxidants.
Chia seeds are also good to add to a smoothie because they have a thickening effect, which I like for the texture of my smoothies.
Protein Powder
You need a good-quality source of protein to support your health. For my Monday morning smoothie, you might want to choose a plant-based protein to make up for over-indulging over the weekend. But don't choose just any plant-based protein! You want to avoid ingredients like soy and you want to avoid extra sugar, as both of those can be inflammatory. Many women also have trouble digesting legumes (as I learned from The Plan) so you may want to avoid those, too.
Luckily, Perfect Supplements has come out with a solution! Their new Perfect Plant Protein is made of pumpkin seeds, hemp seeds, and sacha inchi seeds. It's an all-organic excellent source of complete protein and minerals that works for those following a paleo, keto, gluten-free, vegan, gluten-free, grain-free, low carb,or whole food lifestyle.
It took Perfect Supplements 12 months of experimenting to come up with the exact right blend of ingredients to offer the first "No Compromise Plant Protein."
Use my code TWEENS10 to save 10% on all Perfect Supplements products!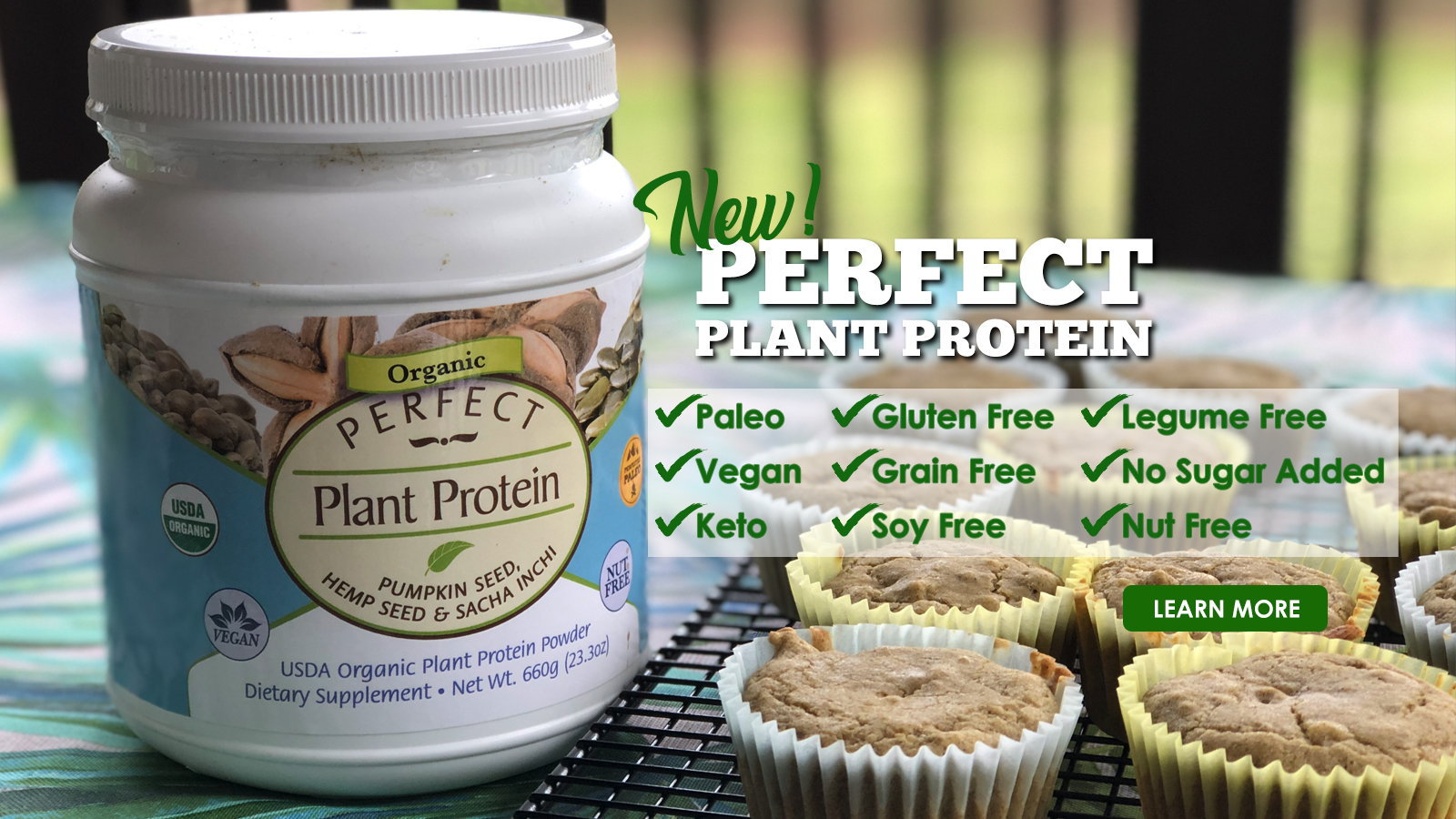 If you aren't interested in using a plant-based protein, you can also use a whey protein. Look for one that is vanilla flavored and sweetened with stevia so it's not too high in sugar. Tera's is my favorite brand of whey protein. Since whey comes from milk, it should be avoided if you are sensitive to dairy.
Sweetener
Sweetener is optional in my smoothie. To be honest, this smoothie is about optimizing health, not being yummy. But you can make it yummier by adding a little sweetener. Some protein powders include sweetener, so you will want to adjust this according to the powder you choose as well as your taste. The Perfect Plant Protein powder I recommend is unsweetened, so when I use that one I add liquid stevia. You only need a tiny bit since it's so sweet – I find about 2 drops is good.
Spinach
Spinach is the "greens" in my version of Kelly Leveque's Fab Four smoothie. I like to use frozen spinach because it's easy to keep on hand, it's a better price than fresh (when you think about how much fresh was used to make that amount of frozen), and it keeps my smoothie extra cold. I learned from Lyn-Genet Recitas in The Plan to always use organic spinach because some of the chemicals in non-organic spinach can cause weight gain. If you have fresh spinach on hand, it's fine to use that, too.
Anti-inflammatory spices
In The Plan, I learned that the spices I choose to flavor my food can make a big difference in my health. Including the correct spices in my diet regularly helps me feel my best by reducing inflammation. So I've used this knowledge when making my Monday morning smoothie.
When you make yours, you can include as many of them as you like or just pick one. I use cinnamon, ginger, turmeric, and sometimes cardamom, nutmeg, and cloves. They affect the flavor of your smoothie, of course. So start with a small amount and increase it if you like it. Cinnamon and ginger are especially nice, and I don't find turmeric to affect the flavor of the smoothie much.
I know my Monday morning green smoothie has a lot of ingredients, but the goal is to optimize your health! You can use what I have listed so far, but I also want to tell you about the supplements I add to make it even more amazing.
Supplements
I add powdered magnesium since it helps to regulate sleep and mood, and most Americans are deficient in magnesium.

I add Perfect Aquatic Greens and Perfect Matchinga, too. Both are great for maximizing health! Don't forget to use my code TWEENS10 to get 10% off your order.
Monday Morning Smoothie
This anti-inflammatory smoothie is full of nutrients and can support weight loss. It can give your body a healthy start to the week after questionable eating on the weekend. It also included ingredients to enhance your focus, energy, and mood.
Ingredients
16

oz

coconut milk, unsweetened

2

Tbsp.

chia seeds

1-2

Tbsp.

MCT oil or coconut butter

¼-½

cup

frozen spinach

or 2 handfuls fresh spinach

½

tsp.

cinnamon

¼

tsp.

turmeric

¼

tsp.

ginger

1

serving

protein powder

2

drops

liquid stevia

optional

½-1

scoop

Perfect Matchinga or other matcha powder

optional

½

scoop

Perfect Aquatic Greens

optional

½-1

scoop

Perfect Magnesium powder

optional

¼-½

cup

ice
Instructions
Add coconut milk and chia seeds to blender.

Add MCT oil or coconut butter and all the spices and powders.

If using unsweetened protein powder, add liquid stevia to taste.

Top with spinach and ice.

Blend. If using a high-speed blender, use the smoothie setting.
Looking for a more kid-friendly smoothie? Or do you LOOOOOVVVVE chocolate and deserve something yummy? Of course you do! Check out my Super-healthy Chocolate Protein Smoothie
Interested in learning more about nutrition? Check out these articles:
Why Your Family Needs Healthy Fats