Tween Style 2022: Trends for Girls
Are you looking for tween fashion trends for 2022? Teen and tween style trends usually change often, but I've gotta say I haven't noticed as much as a change the past year or two. My tween style article from 2021 was a big hit, so I'm back with some thoughts for 2022. I know many girls worry a lot about fitting in with the other teens and tweens, so I've got your back! Read on for 2022 fashion tips for tweens and teens!
Nourishing Tweens is a participant in several affiliate programs, advertising programs that provides a means for sites to earn advertising fees by advertising and linking to amazon.com and other websites. I only recommend things that I truly like and would use myself. If you click through my links and make a purchase, there is no additional charge to you.
Why do I claim to know anything about tween style? I am a mom of a fashion-conscious teen. I've loved to watch trends my whole life, and now I've got a teen daughter that has an eye for style. Although these are my own opinions, I've got a teen editor to make sure I am accurate. Your comments are more than welcome! I would love to hear what you think below!
This article is all about style for teen and tween girls in 2022. If you are shopping for teen and tween boys, check out Hurley. They have all a boy needs (and great girl clothes, too)! If you're shopping for younger girls, then you need to head over to Justice. Check them out if my fashion choices here seem too "old" for your daughter. My daughter loved Justice when she was younger.
90s style fashion trends for tweens and teens
Tweens and teens continue to be into 90s fashion. As a teen myself in the 80s and 90s, I find this super fun (and sometimes a bit horrifying…seriously, acid wash is back?!? Kids, what are you thinking)! Teen and tween style in 2022 looks very similar to Friends, The Fresh Prince, Beverly Hills 90210, and sounds like the Backstreet Boys and NSYNC. Why does my daughter know all the words to their songs??? I think TikTok has something to do with it.
Trends for teens and tweens in 2022
We live in California, which is often the birthplace of new styles. I've been watching the teens heading into the high school, and this is what I'm seeing (no I'm not creepy, I'm just dropping my kid off at school and researching for this article):
Sweats
Pajama pants
Ripped jeans
Leggings (but not as many as in past years)
Oversized T-shirts
Oversized sweatshirts
Cropped t-shirts
Ripped denim shorts
Flannel shirts
Graphic Tees, especially with band names and place names
So, not a lot has changed in the past few years. However, these kiddos know how to GET COMFY. There's a lot of slouchy comfort going on, and I think we have months and months (years? decades?) of Covid lockdowns to thank for that. This generation of teens is not messing around with tight pants, and the only body-conscious clothing I'm seeing is exercise wear like leggings and sports bras. And I'm not seeing nearly as much of that this year as I did in 2019.
I'm gonna say it. They look like slobs.
But you know what? More power to them! And as a mom, how happy am I that my daughter has her body covered and we aren't fighting over strappy tiny shirts? YES.
Alright, let's get your (or your daughter's) comfy slouch on:
Comfy sweats and pajama pants for tweens and teens
These sweats from Amazon are from their new Amazon Aware line, an eco-conscious brand that's renewable and sustainable, a fact that will make many teens and tweens happy. They come in 6 colors and sizes from xxs-7xl, so they will fit little tweens up to curvy girls:
These sweats are Champion, a popular brand for teens and tweens. They come in a bunch of colors and also have a lot of sizes:
A lot of teen girls prefer a baggier look. If so, these should fit the bill. They come in lots of colors and according to reviews, run a bit small so order up a size:
I remember wearing plaid pajama pants out in public was a thing when I was in college (and yeah, that was the 90s). Do over!!! I'm seeing lots of teen girls and boys in pajama pants like these. Usually baggy, usually a bit too long. Both of the styles below come in a range of colors:
90s Jeans for 2022
Like I already mentioned, acid-washed jeans are in. As are loose jeans, mom jeans, ripped jeans, high-waisted jeans, bleached jeans…basically, you want to look like your jeans have been through some sort of horrible accident.
I've gotta do an aside here. When I was in middle school, my jeans had authentic holes because about once a year, I managed to fall off my bike. So I had Guess jeans ($45! I talked my mom into that!) with holes…that are now emulated by millions. Of course, my Guess jeans were fitted at the bottom and had ankle zippers. Those were 80s jeans…now back to the 90s fashion.
One thing that might be newer this year, is some teens are starting to wear low-waisted jeans. I haven't seen them out on the streets yet, but the designers are pushing them. And the designers are trying to bring flared (bell-bottom) jeans back, too…but so far, I haven't seen any on real teens.
What I'm continuing to actually see the California teens wearing is baggy or loose high-waisted jeans. Here are some examples:
So when you are buying jeans for your tween, be careful about those rips. Notice where the rips are in the pics I posted above.
Sometimes, jeans have rips in WAY more precarious places…you don't want her underwear showing! Make sure the rips don't start too high on her legs.
More 90s pants
Cargo pants are back, too. You can get them higher waisted:
or lower waisted:
Shorts for 2022
Denim shorts seem to be the favorite choice for teens and tweens in 2022. The shorts, just like the jeans, also looks as if something terrible has befallen them…they're ripped, distressed, holey, bleached, acid-washed…
Here are some suggestions:
I've got the same advice with the shorts – watch out for where the holes are and how short they are. You don't want to show more than intended.
Like I said at the beginning, if you are shopping for a younger tween, head to the Justice website.
Shirts and T's
Graphic T-shirts continue to be popular, and you can check out my 2021 article to see some recommendations for those. I'm also seeing just comfy, basic t's in solid colors like these:
I really like that girls seem to have options. Cropped or long, loose or tight – whatever they are into, it's fine. This generation is super inclusive, and that seems to go for fashion, too.
Hurley carries cute tops like these:
The one above is for sale at Amazon, but you can see all the latest if you go directly to Hurley's website.
If you're looking for fitted, you can go with tops like these:
And here are some graphic t choices. I've noticed a lot more quirky, funny shirts this year than I'd seen in the past few years. I've included some silly, some just pretty: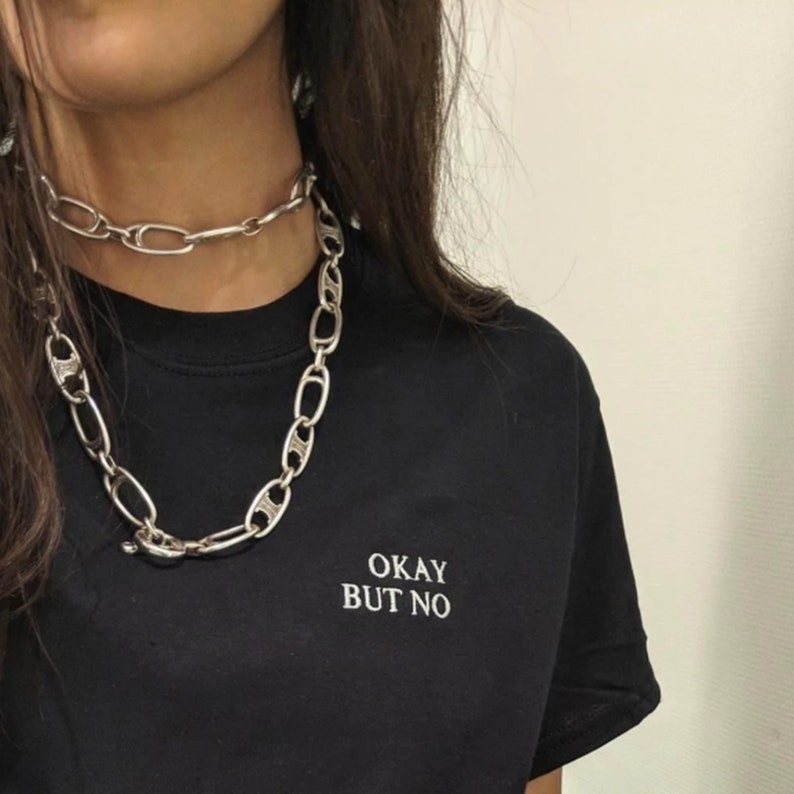 More shirts and tops for tweens and teens
In 2022, it's popular to wear a button-up shirt open over a fitted, plain shirt.
And then to go under them, you need something like these:
Here's a basic one that comes in girl's sizes (and a bunch of colors) if you have a smaller tween:
Shoes for tweens and teens
Nike Air Force Ones have been popular for a few years now.
Converse and Vans are still big, too.
Combat boots are back, too. Here's the real thing, Doc Martens that were popular when I was a teen:
And if your daughter wants to try the look but you don't want to commit to the price, here are some cheap ones:
Jackets and sweaters for tweens and teens
The shirt jacket look is popular in 2022. Teens seem to have rediscovered corduroy – and they like it! It is nice and cozy. How about something like this?
Sweatshirt jackets also continue to be in style. In fact, they probably always will be! There are oversize ones:
or cropped ones:
Cute Accessories for 2022
Most teens and tweens continue to be into the delicate look for jewelry. Trendy necklaces include styles with moons or suns, butterflies, and tiny gems. Lots of girls like to get a necklace with their initial on it. Layering is also popular.
Bracelets tend to be dainty, too:
So there you have it…tween and teen style for 2022! Not a lot has changed since last year, so please take a look at my 2021 Style for Tweens article to get some more ideas. Have some thoughts? Did I miss something? If so, comment below! And don't forget to pin and share!