Healthy Apple Cinnamon Muffins
Are you looking for a tasty gluten-free breakfast or snack? These healthy apple cinnamon muffins are grain-free and gluten-free, packed with nutrition, and full of flavor! You and your kids will love them for a filling, healthy breakfast or snack.
Nourishing Tweens is a participant in several affiliate programs, advertising programs that provides a means for sites to earn advertising fees by advertising and linking to amazon.com and other websites. I only recommend things that I truly like and would use myself. If you click through my links and make a purchase, there is no additional charge to you.
Fall is apple season, and I love fall! We have an apple tree in our yard, so every fall I try to bake as many apple recipes as possible! But you don't need to wait until fall to enjoy healthy apple cinnamon muffins! They are delicious any time of year.
Healthy Gluten-Free Muffins
Jump to Recipe
Since my apple cinnamon muffins taste like dessert, your kids will gobble them up as an after school snack or as a quick breakfast. But you will know that they are filled with lots of good nutrition! Plus, since they are made with high-protein ingredients like almond flour and eggs, they will keep you and your kids full for hours and not leave you with a sugar rush or the crash that follows. Here's everything you need to know:
Apples
Apples have many health benefits. "They're are a good source of fiber, particularly the soluble, gelatinous polysaccharide called pectin that binds to cholesterol in the gastrointestinal tract and slows glucose absorption. They also provide a surprising amount of antioxidants." Levy, Julian "Apple Nutrition — The Ultimate Gut & Heart-Friendly Fruit." Dr. Axe, September 3, 2023 https://draxe.com/nutrition/apple-nutrition/
The fiber in apples also is known to help prevent constipation and has even been shown to lower cholesterol. Apples have anti-inflammatory properties which can help to prevent diseases including cancer and heart disease. They're also high in vitamin C and are one of the best sources of boron, which helps build strong bones and muscle mass.
If you have an overabundance of apples like I do, then you can use some of them to make the applesauce that's called for in the recipe. I don't bother to peel the apples since the skin has extra fiber and nutrients. In the cooked muffins, the skin is just fine! If you want to be a bit tricky about getting more fiber into your kids, then simply puree your applesauce in a food processor or blender before using and no one will be the wiser.
Almond flour
Almonds are a good source of magnesium, vitamin E, calcium, and fiber. They also supply healthy fat and protein, so they keep your body fueled and satisfied. If you use unblanched almond flour these benefits are increased because the outer skin of the almond is included. There is evidence that eating almonds can support the health of your heart.
Almond flour can be a bit expensive, so I buy mine at Costco. Unfortunately, theirs is the blanched variety, but that's ok. I store it in the fridge so that it doesn't get rancid before I can use the whole package. I recommend you store all your nuts in the fridge or freezer so that they stay fresh.
Flax Seeds
Flax seeds contain omega-3 fatty acids which have been shown to improve brain and heart health. They are a source of lignans, a type of antioxidant that research says may lower cancer risk. Flax seeds are also high in protein, fiber, magnesium, vitamin B1, and healthy fat.
It's wise to store your flax seeds in the fridge because they can go rancid easily, just like nuts. Those healthy oils are delicate and don't last forever!
Walnuts
Walnuts are full of healthy fats, minerals, and antioxidants. They are a great source of omega-3, which promotes a healthy brain and a healthy heart. They are a good source of minerals including magnesium, manganese, phosphorus, and copper. Walnuts are also high in fiber and protein.
Coconut Oil
Coconut oil is an amazing superfood that we should all be incorporating into our diet. It contains medium-chain fatty acids which have been proven to reduce inflammation, supports heart and brain health. While coconut oil has had a bad reputation in the past for being a saturated fat, newer research has confirmed that it is actually extremely healthy. Those concerns of the past were misunderstandings and based on hypotheses that have been shown to be incorrect. Click here if you'd like to learn more about coconut oil.
I get my coconut oil from Perfect Supplements because their coconut oil is so pure! Use my code TWEENS10 to get 10% off your order.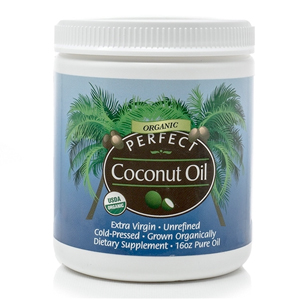 You can also get coconut oil on Amazon or at any grocery store, of course.
Anti-inflammatory Spices
My healthy apple muffins include cinnamon, which is so healthy for you! Many people don't realize that cinnamon is not only delicious, but it's great for our bodies, too. Cinnamon has been shown to help with blood sugar, immunity, and digestion. It's especially high in manganese, which is good for bone health and hormonal balance. Cinnamon is also anti-inflammatory, which can really make a difference in your overall health.
Since inflammation is likely the source of most disease, consuming anti-inflammatory spices can really support the health of you and your family.
Healthy Apple Cinnamon Muffins
Looking for gluten-free breakfast and snack ideas? These grain-free, gluten-free apple cinnamon muffins are made with almond flour and have a delicious cinnamon crumble topping.
Ingredients
2

cups

almond flour

2

tbsp

ground flax seeds

1

tsp

baking soda

½

tsp

salt

3

tsp

cinnamon

¾

cup

brown sugar

¼

cup

coconut oil

4

eggs

1

tsp

vanilla

1 ½

cup

apple sauce

Use store-bought or homemade.

1

cup

apples, diced finely

½

cup

walnuts, chopped

optional
Applesauce
3

cups

apples, chopped

2

tsp

sugar

1

tsp

cinnamon
Cinnamon Crumble Topping
¾

cup

walnuts, finely chopped

3

tbsp

almond flour

1 ½

tsp

cinnamon

6

tbsp

salted butter, cold

6

tbsp

brown sugar
Instructions
Before you start mixing ingredients, measure the coconut oil and microwave it to melt it. Then allow it to cool a bit before combining with colder ingredients.

If you are using homemade apple sauce, start by making that (see applesauce recipe below).

In a large bowl, combine almond flour, flax, baking soda, salt, cinnamon, and brown sugar. Use a fork to break up any lumps.

In a medium bowl, combine eggs, coconut oil, vanilla, and applesauce.

Stir wet ingredients into dry ingredients. Add diced apples and walnuts. Stir well.

Put paper liners into muffin pan.

Fill muffin cups with batter.

Crumble topping evenly over muffins.

Bake 20-25 minutes at 350℉ until toothpick comes out clean.
Homemade Applesauce
Hea apples over medium heat with a lid on. When they start to get hot and make noise,turn the heat downa bit and cook until softened, about 5 minutes.

When apples are softened, remove from heat.

Mash the apples with a potato masher.

Add sugar and cinnamon and stir well.
Cinnamon Crumble Topping
Mix the walnuts, almond flour, cinnamon, and brown sugar with a fork in a medium-sized bowl.

Chop the butter into small chunks and add to the bowl.

Use a pastry blender or two knives to combine all until crumbly.
Want more gluten-free goodness? Try these recipes:
Grain-free Pumpkin Spice Muffins
Grain-free Banana Chocolate Chip Muffins
Gluten-free Oatmeal Chocolate Chip Cookies
Need a different healthy breakfast or snack idea for your kids? Try this:
Super Healthy Chocolate Protein Smoothie
Want to learn more about why I eat this way? Read this: